Looking For Joy
It was not one miracle that the Lord provided for us, it was living in His favor... and trusting that He would take care of us."
-Carol
As a young bride, Carol never envisioned what the future would hold. Shortly into their marriage, her husband, Michael was diagnosed with Wegener's Granulomatosis and died five years later, leaving her with three small children to raise. Initially, Carol filled her days with the normal activities of raising a 3-year-old, 2-year-old and an eight-month-old. Keeping the children fed, bathed and cared for, gave Carol the purpose she needed to carry on.
Carol came to realize she was never truly alone. Not only was God with her, but friends and family members were there to help. There were times when food was running low, and someone would bring groceries or send a gift card.
As a family, they chose to look for joy and played a game called "looking for the good." When the days were the darkest, they would put on their "looking for the good" glasses and begin to search for joy.
---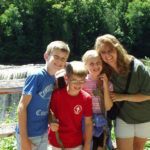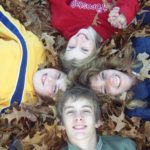 With time, their grief began to ease as they found enjoyment in spending time together and built great memories.
---
If you are dealing with a broken heart, here are some points to ponder:
Trust God.
Bring your needs to God and trust Him to provide. He loves you!
Look for Joy.
Like Carol, put on your "looking for the good" glasses.
Special Assignment.
Be open to God's new purpose for your life.
Share your story.
People who have experienced the loss of a loved one may have feelings of anger, depression, or isolation. If you have experienced a loss like this, we encourage you to share your story. There is someone who needs to hear it!
Words to Live By:

"The night may be filled with tears, but in the morning we can sing for joy" Psalm 30:5 (ERV).

"I will turn their mourning into joy; I will comfort them, and give them gladness for sorrow" Jeremiah 31:13 (ESV).

"He heals the brokenhearted and binds up their wounds" Psalm 147:3 (ESV). 
Dr. Ron's Perspective:
Grief is a universal reaction to loss and commonly produces feelings of sadness and depression. These emotions are an essential part of what makes us human. In her book, On Death and Dying, Dr. Helen Kubler-Ross identifies and explains five stages of grief. They are denial, anger, bargaining, depression, and acceptance. These stages may all be part of your mourning and healing process. Be assured that it takes time to walk through this and that there is no perfect way to do it. Everyone is unique in the way they experience and react to a loss. Some keep their feelings to themselves while others weep openly. However you walk this journey, take your time. There's no rush. Allow yourself to grieve.
"I believe in the resurrection primarily because I have gotten to know God.  I know that God is love, and I also know that we human beings want to keep alive those whom we love. I do not let my friends die; they live on in my memory and my heart long after I have stopped seeing them" (113).
Recommended Resources:
The Problem of Pain   -C.S. Lewis
The Gift of Pain  -Philip Yancey
The Reason for God   -Tim Keller
---
Real People, Real Stories, Real God®