When Things Fall Apart
"When you step out on the things God has placed in your heart, He will provide and make a way."
- Pastor Eric Tolbert
Pastor Eric accepted God's calling to lead a church in another city, but he had no idea what obstacles he would face during that time. He had high hopes and expectations of life without challenges but soon discovered that he and his family would experience just the opposite.
Due to financial difficulties, they lost their house and ended up moving in with his father to live in the basement. The stress of traveling back and forth to minister weighed heavy on Pastor Eric physically, and he found himself in and out of the hospital.
He came to a point where he asked, "God, what is going on? Why are we going through this?" Anger and bitterness crept in as he struggled with the feeling of failure. His main question was, "Where are you?" There were no answers as he waited anxiously to hear from God.
One day, as he lay still in an MRI machine, he cried out to God. Through his brokenness, he felt God's peace wash over him. Pastor Eric allowed God to do a mighty change in him and through this surrender, his situation began to change.
God worked through Pastor Eric and blessings began to flow in his life. His father helped him to move to his own place in the city where he pastored, and the blessings continued to grow. They learned to never give up on God and to keep trusting that He will provide and make a way.
---
When circumstances in your life seem out of control, you have a choice in how you respond:
Continue to believe
Despite facing an impossible situation, Pastor Eric chose to trust and believe in God's word.
Continue to keep the faith
Despite the stress of becoming homeless and relying on family members, Pastor Eric and his wife chose to remain faithful to God's calling on their lives.
Continue to follow God's direction
When you step out on the things God has placed in your heart, He will provide and make a way. Despite feeling overwhelmed, they chose to follow God's plan for their lives. They went from living in a basement to living on their own as they watched God provide for their needs.
Words to Live By:

"So do not fear, for I am with you; do not be dismayed, for I am your God. I will strengthen you and help you; I will uphold you with my righteous right hand" Isaiah 41:10 (NIV).

"Peace I leave with you; my peace I give you. I do not give to you as the world gives. Do not let your hearts be troubled and do not be afraid" John 14:27 (NIV).

"I have told you these things, so that in me you may have peace. In this world you will have trouble. But take heart! I have overcome the world" John 16:33 (NIV).
Dr. Ron's Perspective:
One moment life can be rolling along smoothly, and suddenly, an unexpected life event occurs. It catches you off guard and shakes the foundation of your world. Anxiety, fear, and depression are common emotional reactions. You might experience sleepless nights and a prevailing sense that life will never be the same. This can also be a time of uncertainty and insecurity. You may wonder, "Why me? Why now? What does the future hold?" This can be a compelling opportunity where one's faith can be challenged, and the purpose of life contemplated, perhaps for the very first time. It is also an opportunity to reflect on the meaning of your life, strengthening your faith by putting your trust in God. Talk to him, the One who already understands your fear and wants to comfort you. He is waiting and ready to listen. You are never truly alone!
"For those who suffer, and those who stand beside them, Job offers up an important lesson. Doubts and complaints are valid responses, not symptoms of weak faith- so valid, in fact, that God made sure the Bible included them all" (99).
Recommended Resources:
The Problem of Pain -C.S. Lewis
The Gift of Pain -Philip Yancey
The Reason for God -Tim Keller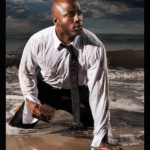 Sink or Swim, How My Family Met God In the Middle Of The Ocean – Pastor Eric Tolbert
---
Real People, Real Stories, Real God®