Widowed Twice
"I took comfort in knowing I wasn't alone ."
- Robyn Dykstra
As a young woman, Robyn found herself a widow with two sons, ages four and seven. Her husband was only thirty-nine years old when he died of a heart attack. Her friends came alongside her with help, and God began to heal her broken heart.
She remarried two years later but found history repeating itself when her husband died in a plane crash. She immediately felt the presence of God and knew that He wanted her to trust Him. She chose to put her faith in God's new purpose for her life.
In time, God once again healed Robyn's, broken heart. She remarried and together with Dave, raised her sons to adulthood. She is now an author and speaker who encourages women as they walk through difficult times.
---
If you are dealing with heartache, here are some points to consider:
Trust God
When you are feeling discouraged and alone:
-Bring to memory times when you received an answer to your prayers.
-Meditate on God's word. Robyn focused on biblical accounts where God intervened.
Look for joy
Robyn chose to find joy, despite the heartache.
Accept a new purpose
Robyn found a Special Assignment in comforting others. She has authored the book, "The Widow Wore Pink" and serves as an inspirational speaker and teacher.
Words to Live By:

"He has made everything beautiful and appropriate in its time. He has also planted eternity [a sense of divine purpose] in the human heart [a mysterious longing which nothing under the sun can satisfy, except God]—yet man cannot find out (comprehend, grasp) what God has done (His overall plan) from the beginning to the end" Ecclesiastes 3:10-12 (Amplified Bible – AMP).

"When you pass through the waters, I will be with you; and when you pass through the rivers, they will not sweep over you. When you walk through the fire, you will not be burned; the flames will not set you ablaze" Isaiah 43:2 (NIV).
Dr. Ron's Perspective:
One moment life can be rolling along smoothly, and suddenly, a traumatic life event occurs. It catches you off guard and shakes the foundation of your world. Anxiety, fear, and depression are common emotional reactions. You might experience sleepless nights and a prevailing sense that life will never be the same. This can also be a time of uncertainty and insecurity. You may wonder, "Why me? Why now? What does the future hold?" This can be a compelling opportunity where one's faith can be challenged and the purpose of life contemplated, perhaps for the very first time. It is also an opportunity to reflect on the meaning of your life, strengthening your faith by putting your trust in God. Talk to him, the One who already understands your fear and wants to comfort you. He is waiting and ready to listen. You are never truly alone!
"I believe in the resurrection primarily because I have gotten to know God.  I know that God is love, and I also know that we human beings want to keep alive those whom we love. I do not let my friends die; they live on in my memory and my heart long after I have stopped seeing them" (113).
Recommended Resources:
The Problem of Pain -C.S. Lewis
The Gift of Pain -Philip Yancey
The Reason for God -Tim Keller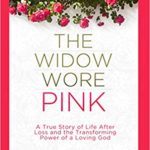 The Widow Wore Pink – Robyn Dykstra
---
Real People, Real Stories, Real God®