Triumph Over Stroke – Rebecca's Story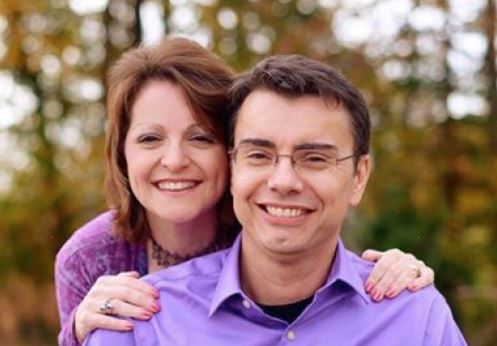 His heart pounding, Steve Ferris knew something was seriously wrong. His wife Rebecca was slumped on the couch.  Thinking she was asleep he gave her several firm nudges, urging her to go to bed. There was no response! Alarmed, he shouted, "Rebecca are you okay? Answer me!" Rebecca struggled to sit up and face Steve, who moved onto the floor in front of her.  The right side of her face drooped.  Her right arm hung limply, and her right leg was blue and cold to the touch. She was moaning, unable to speak.  Steve immediately called 911.  Helpless, they sat waiting for the ambulance.  As they waited, one thought kept pulsing through his mind; our lives are forever changed!
Earlier that day, Rebecca experienced a throbbing pain in her left leg that sent the couple to the Urgent Care. It was the medical issue Rebecca had dealt with that month.  While tests were run on Rebecca, Steve had waited alone remembering the recent trips to the hospital after Rebecca had suffered a heart attack and ulcerative colitis.  Both were relieved when the ultrasound results on her leg came back normal. Thinking that everything appeared to be okay, the couple returned home.  A few hours later, Rebecca mentioned that her arm felt odd. This almost sent them back to the Urgent Care Center. However, within a short while, her arm returned to normal. Since they were both exhausted, they shrugged it off and settled in front of the TV. The couple found out months later the mysterious arm pain was a miniature stroke, a warning sign that a major stroke was on its way in a matter of hours.
Before the fall of 2008, Rebecca Ferris was a natural administrator who enjoyed organizing people and resources. She led a full life.  Before moving to Grand Rapids in June of 2008, she managed a McDonald's restaurant. This experience, along with other talents, earned her a position as copyright's administrator for Zondervan Publishing House.  Rebecca loved juggling the daily demands that came with managing complex licensing information. It was an exciting new level of administration for her, and she efficiently managed the required hours of phone conversations.
Outside work, she was a Mary Kay distributor and a member of the BNI business network.  Rebecca loved to talk with people and was confident in giving group presentations. Being a member of her church choir and part of the women's ministry leadership team, gave her opportunities to use her speaking and organizing skills.  For fun, she pursued a love of horses by joining the National Association of Competitive Mounted Orienteering. She delighted in the hours spent astride one of her horses participating in the timed treasure hunts. This tested her horsemanship and challenged her as she found her way using a map and compass. Rebecca's life was rich with meaningful work, service activities with her church, and a hobby she loved.
On September 17, 2008, a stroke left Rebecca capable of making no other sound beyond a strangled moan. With the stroke, life came to an abrupt halt. Suddenly, thoughts could not be formed into words.  She struggled to do activities with her right side, like holding a fork or walking. Rebecca stayed in the hospital for eight days and a rehabilitation center for ten more days.   With her vacation time depleted after her heart attack, she was placed then on short term disability. This increased her uncertainty over what the future held for her. During her hospital stay, she also became fearful of losing Steve and began to worry that he would not stay with her.
One day, when Steve went home for a rest and laundry catch-up, Rebecca became terrified that he was going to leave her permanently. When he returned, Steve reassured her that he was with her for the long haul.  When Rebecca returned home, life for both her and Steve was radically altered. Daily therapy appointments dictated their schedule, but Rebecca was determined to do everything it took to recover. Fortunately, Steve's accumulated vacation time allowed him to work from home.  Most days he worked quietly in the corner of the same room where Rebecca struggled to regain basic skills like saying his name.  That task alone took eleven weeks of additional private therapy sessions.
The healing journey took its toll on both Rebecca and Steve. At the beginning of Rebecca's recovery, she didn't fully understand what had happened and became upset when people around her discussed the stroke. Anger and frustration increased when no one could understand her!  Steve was busy cheering on his wife, juggling therapy sessions, keeping his job, managing their home, and caring for two horses and a dog. He didn't have time for any feelings; that would come later.  Sadly, during this time their dog, who had been with them for eleven years, passed away, adding sorrow to two people already full of it.
Another challenge for Rebecca came with well-meaning friends, who did not fully understand her condition, and therapists who told her to get used to her "new normal." Unknown to her therapists, her faith in God brought her an extraordinary strength to keep fighting.  On November 6, two months after the stroke, she had already received quiet assurance from God that he would eventually restore her health 100%.  This made Rebecca unwilling to accept her slurred speech and diminished use of her right side as permanent. "I used everything as therapy," Rebecca states.  She returned to horseback riding one month after the stroke and was orienteering nine months later.   Her encounter with God sustained her hope and enabled her to resist the negative expectations of others.  It also helped her to forgive people who did not understand the extent of her injuries.  After a year and a half of therapy, some people thought she was exaggerating her ongoing struggles, to gain sympathy.  This was deeply painful for Rebecca. Her emotions would "fall off of a cliff sometimes," she shares.  Maintaining joy was an uphill climb, but Rebecca was determined!
After lengthy therapy, Rebecca exceeded expectations in many ways.  However, the aphasia, an inability to speak the words your brain is thinking, was still persistent.  She attempted to return to her job, but it was disappointing. She could no longer handle the complex phone conversations and details required of a copyright's administrator. Shortly after this, a friend referred her to the aphasia program at a local university. She spent six weeks there, 25 hours a week, working to regain her speech skills. Within the supportive environment, she worked hard, received the right encouragement, and made significant progress.
The aphasia also affected her singing, which became another loss for Rebecca.  Song lyrics, once quickly learned, now escaped her. She had to practice several hours beyond choir rehearsal before she could attempt singing during church services.  Sunday mornings became an internal battleground as she debated whether she was up to the challenge of singing at all. Could she get the words out during the fast-paced worship songs?  With the encouragement of her choir director, who also helped her with extra practice, Rebecca chose to believe she would eventually sing the songs she loved again.  With hope, she continued her fight and regained lost ground in this area too.
In the first year of Rebecca's recovery, Steve was fighting his own battles.  Each day he would wake up expecting this was the day God would miraculously heal his wife. Daily he had to face the reality that healing, for her, would be a process.  Steve knows now that he buried his true feelings.  He focused all his emotional and physical energy on Rebecca, neglecting his own pain and sense of loss.  It was not until a year after the stroke that Steve felt he could share his thoughts with Rebecca. As fall drew near, in the year 2009, almost one year after Rebecca's stroke, Steve felt a persistent sense of dread.  He eventually realized that, for him, autumn represented the moment when their lives changed in unimaginable ways. Before Rebecca's stroke, they shared a wonderful marriage partnership. After the stroke, Steve became the sole decision maker and caregiver, a big responsibility.  During an anniversary weekend getaway, Steve came to understand his own emotions,  shared them with Rebecca, and his healing began.
Today, Rebecca has returned to many of her old activities. In her church, she still enjoys serving others. She manages her Mary Kay business and spends hours riding her beloved horses.  Participation in support groups for stroke victims also continues.   Rather than a learner, she is now a mentor who teaches speech pathology students how to work with stroke victims. She encourages new stroke victims never to give up. When no one else could understand her, God knew every thought she couldn't speak.  He was her dearest friend during a time she often felt alone.  Steve learned from Rebecca how to have love towards people who were not always careful with words.  They have both determined to live in ongoing forgiveness. Steve and Rebecca continue to believe for a full recovery and are trusting God to bring it about.  Rebecca now begins every morning with a quote from a well-known pastor, Joel Osteen, "I am getting better and better every day in every way!"
Story submitted by Rebecca, from Michigan.
Real People, Real Stories, Real God®