Finding Your Purpose
"I realized I had a purpose for taking up space on the planet."
- Pastor Mike Robertson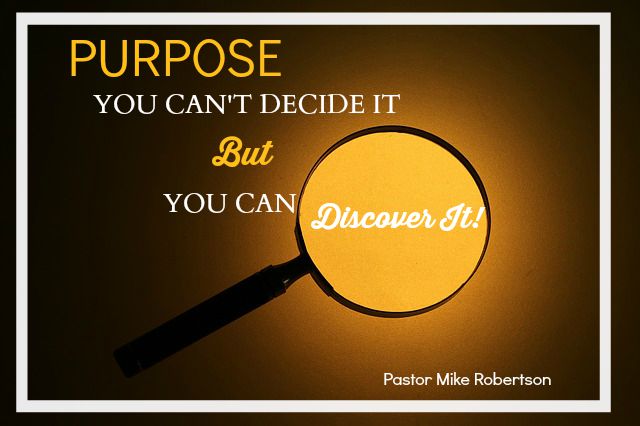 Pastor Robertson found his purpose as a young man. Experiencing the loss of his father led to the worst six months of his life. He was kicked out of school and arrested while trying to fill the hole in his soul. After nearly drowning, he realized God had saved him for a reason. He soon discovered that reason was to be a pastor.
Pastor Mike challenges each of us to find our God-given purpose.  He said, "We all have an assignment. We don't get to decide our assignment, but we can discover it."  Have you found yours?
---
To find your purpose, ask yourself these questions:
What brings me joy or fulfillment?
Doing things that bring you a sense of accomplishment, may be a clue to your purpose. If you experience joy just by doing a particular activity, you are on the right path.
What activities give me energy?
Activiities that energize you may be another clue to help you identify your specific gifts and talents. When you consistently feel drained by an activity, this may be a sign that you are working outside your God-given design.
What situations cause me to feel angry?
For example, if you experience anger at social injustices such as poverty or racial discrimination, this too can be a clue to your purpose.
Which people group am I drawn to help?
When you consider volunteer work, are you drawn to: seniors, youth, women, men, or a particular people group?
References:
"You were uniquely designed, wired, and shaped by God to do certain things." Rees, E. (2006). S.H.A.P.E.: Finding & fulfilling your unique purpose for life. Grand Rapids, Mich.: Zondervan.
---
Words to Live By:

"Before I shaped you in the womb, I knew all about you. Before you saw the light of day, I had holy plans for you …"

Jeremiah 1:5a (Message)

" For I know the plans I have for you, declares the Lord, plans to prosper you and not to harm you, plans to give you hope and a future."

Jeremiah 29:11 (NIV)
Afterthoughts:
Do you spend time wishing you had the job your friend has, even if you don't have her talents? If you frequently compare yourself to others and feel lacking, this might be a sign you have not yet found your true assignment. Give yourself some time to discover your own unique gift and talents.
Are you frequently drained after volunteering? Do you find yourself feeling resentful after doing things for other people? It may be time for you to discover your true purpose.
When we find God's purpose for our life, we are energized and no longer resent other people's successes. Using our unique gifts, brings joy and energy. There is a sense of rightness and fulfillment, even when the work is difficult.
Ask God to show you your purpose. He is faithful and will show you the way.
---
Recommended Resources:
The Search for Significance -Robert McGee
S.H.A.P.E.: Finding & fulfilling your unique purpose for life -Erik Rees
Shape Class Introduction – The Shoreline Church
"We will never know in this life, the full significance of our actions here, for much takes place invisible to us" (112).
---
Real People, Real Stories, Real God®