A Young Widow's Journey of Faith – Hope's Story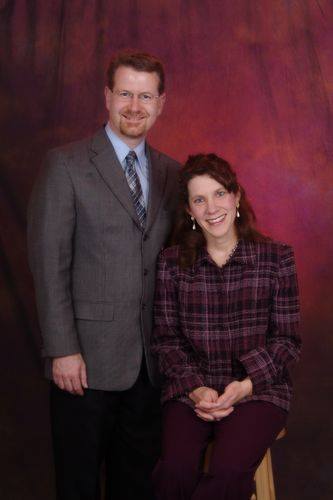 My name is Hope, and this is the story of my journey of faith.  I was once married to a man named Jeff Nath, a full-time minister.  We met at a church in Wisconsin where Jeff was associate pastor of Christian Education and Music. He was a passionate, energetic man, with a gorgeous tenor voice.  When I joined the church choir, my sister pointed out his single status, but I never thought he could be interested in me. After a couple of weeks, Jeff called me at home. I thought he was calling about the choir, so when he said, "I'd like to ask you out to dinner," I almost dropped the phone.  We started dating and when I finally sat with him in the front "pastor's pew," the whole church knew we were a couple.  I remember our wedding months later where Jeff sang a wonderful old gospel song to me.  It was beautiful and sweet.
We spent five good years in that first church, but Jeff felt called to senior pastor ministry.  An opportunity became available in Northern Wisconsin. During a visit to the church, we immediately fell in love with the people and the surrounding area.  I was pregnant with our first daughter when we decided to move to this new congregation.
I enjoyed leading a Bible study, working with children's ministries and teaching pre-school part time.  After five years, I became pregnant with our second daughter.  At the same time, Jeff felt a stirring from God that it was time for us to move on to our next chapter.  We relocated to a church in Ohio that needed help recovering from some difficulties.  This decision moved us far away from Jeff's family in Minnesota but much closer to my mother, who lived in Chicago.  Moving closer to my mother would be very important in the days to come.
Our new church struggled in many ways. God anointed Jeff to be the loving, caring pastor they needed to help them heal. His leadership was successful, and the church experienced healing and growth. Jeff pondered and prayed to receive guidance from the Lord as to what direction he should lead the church in the coming days. He sensed that their recovery was strong enough to guide them into the next steps of God's plan.   Jeff was right about taking new steps, but not in a way any of us could have conceived.
Our family life was wonderful during this time.   We loved eating out together and watching "I Love Lucy" reruns.   Jeff adored our daughters.  He and Rachel, our shy eight- year- old, loved to go on daddy-daughter dates to bookstores. Our second daughter, Sarah, who was two, shared Jeff's fair coloring and freckles along with his passionate, perfectionistic personality. We considered Sarah a gift from God, as Jeff, and I, thought we would be unable to have more children after Rachel. Years later, Sarah's appearance and character became a special gift from God to me.  Today, she is a living reminder of what an amazing man Jeff was.
One day, in 2005, during a family church retreat, I found a beautiful, quiet place by a lake, for my alone time with God.  Sitting in the warm sunlight, on the grassy bank, I recommitted my life to Him. I said, "I want to go on a journey with You.  I  want to get to know You in a deeper way, to have an adventure where my faith is challenged to grow.    Whatever that looks like, I am ready."  I forgot about that prayer until three months later, when I began a  very difficult journey.
The day I remembered that prayer started out like any other day. Ministry responsibilities filled that week.  Sunday was filled with our usual responsibilities then we moved directly into the busyness of Vacation  Bible School.  Jeff preached the last sermon of his life on the topic of heaven.  In between VBS responsibilities,  he spent time intensely engaged with church people, loving and encouraging them.  On this particular day,  Jeff called me at school, where I taught kindergarten, with an unusual invitation. Normally, he spent his lunch hours eating with various church members but this day he invited the girls and me to eat lunch at a restaurant with him.  I remember thinking this was so odd at the time. Nevertheless, we enjoyed our wonderful surprise meal together. God knew this was our last time to connect and enjoy being a family.
That night my husband and I attended a prayer service at the church.  He stayed afterward, to meet with some people, and I went home with the girls.  He said, "See you later!" and was gone.  Around 10:00 that night, when the girls were in bed, I was reading my Bible in the Psalms.  I heard God speak to my heart, "Something big is coming. Get ready!" I ignored it and kept on reading. I heard the voice again.  This time I said, "Okay God, whatever You have planned for me, I am ready."  I thought maybe someone would become ill or something like that. I tried to call Jeff and see if he was on his way home, but the call went to voice mail.
I was still reading when someone knocked at the door. I answered it to find a policeman standing there.  He said, "Your husband has been in a terrible car accident, and they are air lifting him to the hospital." After quickly getting someone to stay with the girls, I began the 45- minute journey to the hospital with some friends who drove me there.  During the ride, I pondered the implications of Jeff being airlifted but busied myself with phone calls to family and friends.
When I arrived at the hospital, a nurse told me that Jeff was in surgery.  At the time, I thought this was a good sign.  They would fix whatever was wrong with him. I settled into a nearby waiting room where a dear friend from our church and her husband, joined me.  She held my hand firmly while we talked, prayed, and waited.
Eventually, a doctor came into the waiting room with a grim look etched on his face. My heart sank when I saw his expression.  "I'm sorry.  We lost him," he said.  Lost him? What did that mean?  I fell to the floor in shock.   My friend wrapped her arms tightly around me as I cried out to God. "Why did this happen?  We served you!  We gave our lives to you! What am I supposed to do as a 38-year-oldwidow with two young girls?  Who will walk my girls down the aisle someday when they get married?"  To all these questions, I heard God say to my heart, "Trust me.  Do you trust me, Hope?"
Later, the police explained the details of the accident to me.  Jeff died instantly when a mini-van struck his car, at 60 mph.  The police officer explained that it appeared Jeff pulled out in front of the van because it was in his blind spot, at a stop sign, as it came over a hill.  The collision caused Jeff's car to flip onto the passenger side and smash into a light pole, but Jeff was gone in an instant.  I tell people that the last thing he saw was headlights that became the lights of heaven.
Within 24 hours, I was surrounded by support.  My three sisters and mother flew in from all over the country to support me. Our church became the hands and feet of Jesus reaching out to me and my girls.  They cared for our laundry, housecleaning and yard work.  Our meals were provided.  People spent special time with the girls taking them to a movie, or the zoo, so I could have time to grieve. Even after the funeral, a group of women from the church surrounded me and helped me for a long time.  A widow I had never met before, visited me and shared a book that was a great encouragement and helped me through my grief.  An artist from our church presented me with a charcoal drawing she made of Jeff. She captured him preaching, from his pulpit.  The church planted a tree to commemorate Jeff's life, and placed a plaque near it to create a memorial we can still visit to this day.
Two months later, the girls and I visited my dear sister, Holly, in California, just to get away for a few days.  While I was there, I felt God urge me to apply for teaching positions in nearby schools.  "What?" I thought. "Teach in California? That is crazy, God! How can I move across the country when I've just lost Jeff?"   Again, I heard God say, "Do you trust me?"   A particular verse came to me and became foundational.  "I know the plans I have for you. Plans for good and not for evil.  Plans to give you a future and a hope" Jeremiah 29:11 (NIV).   If God was opening a door, I was not going to miss it! I must find out those "good plans" that He had for me.
One of the schools I applied to while I was visiting Holly, "just happened" to need a 2nd grade teacher.  A co-incidence? No, a God moment! I was being asked to move my family from Ohio to California three months after Jeff died.  I prayed a lot, and God showed me this would be a new chapter in our lives.  We could heal and move forward! Would I trust Him and walk through the door?
Back home in Ohio, I kept hearing the same big question and advice: "Why move now?  You've only been a widow for two months, just grieve awhile and in a year or so make a decision about leaving."  On the Sunday I announced my moving plans to the church, I explained to them what God revealed to me.  This chapter in our lives was finished.  I was not running away, instead I was moving into the new things God had for me.  I shared Jeremiah 29:11 and another verse with them. "For I am about to do something new.  See, I have already begun! Do you not see it?  I will make a pathway in the wilderness.  I will create rivers in the dry wasteland." Isaiah 43:19.  I had a wonderful chapter of life with Jeff, but now it was time to move on.  They understood, and gave their help and support while I sold our house and packed.
Well, when God moves, He moves!  The girls and I moved to California and God provided an affordable house in a nice neighborhood that was only ten minutes away from my sister.  I could drop the girls off at her house on my way to my new job. He also provided us with a new church family who surrounded us with love and care.
Continuously moving forward helped lift me out of the depression that comes with grief.  My oldest daughter, Rachel, also experienced depression and became withdrawn. God provided for us again, with a wonderful Christian counselor.  The counselor helped Rachel move through the stages of grief, which was a great blessing for me.
During our first year, as a family of three, holidays were challenging.   Since my dad was in heaven and Jeff was gone, I didn't know what to do about Father's Day.  We decided to make it a special girl's day and spent it creating wonderful new memories together at Disneyland.  Christmas was much harder.  I couldn't bear to put up my Christmas tree with all the ornaments Jeff and I collected together.   My sorrows about Christmas prompted some beautiful room mothers into action. They helped all my students make new Christmas ornaments for me. In addition, they put up a tree in my living room and decorated it with the sweet ornaments.  On top of all this, our church collected money and purchased gifts for the girls I could not afford.  The presents were the kinds of toys and clothing Jeff and I might have purchased for them.  Christmas day turned out awesome.
My story continues in a miraculous way simply because of an e-mail I noticed one day.  The message came from an online Christian dating service.  I filled out the form and sent it in with a picture of me and the girls. Afterwards, I gave it very little thought.  I started to receive e-mails back, but one in particular touched my heart.  A divorced man, who was now alone with his two girls, wrote a very kind letter to me.  He said that when he read my story and saw my family picture, his heart was moved to pray for me and my girls.
I was so touched by the kindness of this man. I e-mailed him to say thank you.  E-mails became phone calls, and phone calls became visits in places between our two homes, which were three hours apart.  Very quickly, I felt like Craig was an old friend even though I had only known him a short while.
I was concerned about Rachel when our relationship moved to a dating level and checked with her to be sure she was okay.  She said, "Mom, Daddy would want you to be happy and be with other people."   Receiving my daughter's blessing comforted me.  Craig and I continued to move forward into a serious relationship, discussing engagement and marriage.
One day, Craig phoned me with shocking news.  He had just been released from a short hospital stay after receiving a diagnosis of throat cancer, stage four, type B. During a visit with him at his home, I discovered more disheartening news.  The cancer was located near Craig's vocal cords.  Trying to remove it could take his voice away permanently.  Instead, it was recommended he undergo chemotherapy and radiation.  Both turned out to be very debilitating for him, especially the radiation.
I came home from that weekend and said, "God, what are you doing? I thought Craig and I were moving towards marriage and a nice life together, and now we have cancer to deal with!"  God asked me yet again, "Do you trust me."  I said, "Yes, I do."
Craig offered me a way out of the relationship and, honestly, I didn't know if I could bear to lose another husband.  Then I realized I cared about Craig too much to allow him to face cancer alone.  I decided that whatever time he had left, I wanted to be side by side with this godly, caring man.
We moved forward with chemotherapy but delayed our engagement until we saw the results of the treatments. The Christmas season came around again and Craig was extremely ill from the chemotherapy.  The girls and I decided to spend Christmas with him and his girls. I sat on the bed in the guest room and realized, "What kind of faith do I have if I base our engagement on test results?" I decided to trust God and told Craig, "I would rather be in cancer with you than to be without you."  He proposed to me on New Year's Eve, 2006, and I said, "Yes!"
Two months later test results showed there was not a single trace of cancer in Craig's body.  It seemed as if God reached down from heaven and pulled it out.  We celebrated our wedding on April 7, 2007. People from all of my previous churches traveled great distances to witness our beautiful ceremony. To see God take two fractured families, and turn them into one whole one, is an incredible experience.  God answered my prayer and gave me someone to walk my girls down the aisle on their wedding days.
To the new widow, I say, "Hang on!"  God has a plan for you even though right now it feels like your insides are falling out!  Trust Him! Cry out to Him!  He will be a husband to you when you feel alone.  He will comfort and encourage you every day to get up and face one day at a time.  Remember grief is a process that is different for everyone. Give yourself time.  When God is ready to move you forward, He will let you know.
I am praying for you even though I don't know you. May God heal your heart and show you the new plans that He has for your life.  He loves you and will give you a "future and a hope" in His way and time.
Here are some additional verses I found comforting:  Isaiah 54:5 (NLT), Psalm 40:2 (NLT), and Psalm 42:5 (NLT).
Story submitted by Hope, from California.
Real People, Real Stories, Real God®