Unanswered Prayers No More – Jay's Story
The unanswered prayers of Jay's co-workers and family lasted twenty long years! Jay and his wife had walked away from God and their home church. They believed God and His people didn't care about them. Filled with anger, they made the decision to leave the church declaring they would never return.
It took twenty years for the couple to realize their world had spun out of control and their lives were consumed with anger towards everything and everybody! They decided it was time to get back to church and made a list of potential places to try. One was deliberately left off the list; the church they had walked away from twenty years ago.
They tried out several of the churches on the list and one seemed to be a good fit. Just to be sure, they made one more visit to this church. That particular Sunday, a guest speaker was teaching about the prophet Elijah who ran away from a painful situation. In the lonely desert, God sent an angel to Elijah and told him to go back home and face what was there. At the end of the service, the couple agreed that God had spoken to them and was telling them to go back "home" too.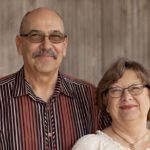 As soon as they returned to their former home church, they knew it was meant to be their home again. Family and co-workers revealed they had been praying for the runaway family all along. They knew that God wanted Jay's family back in church but they had to be patient and trust God's timing for those many years. Jay's family and friends learned that unanswered prayers do not mean that God is not listening. He is faithful and will act in line with His word for those who don't give up.
Story submitted by Jay, from Michigan.
Real People, Real Stories, Real God®